Lilliput AD1001/4G
The Lilliput AD1001/4G is a 10 inch open frame 16:9 LCD advertisement video system. Using the 4G mobile network, this device can receive targeted advertising video streams straight from a base server PC system to these AD1001/4G receiver monitors.
It can be used for simple rolling static advertisements, video loops, or for keeping up to date with local information.
Ideal for remote placement where existing hard-wired networks don't reach - like high traffic concourses in shopping centres - they are also incredibly portable, and can even be mounted into purpose built backpacks for on-the-go advertising that will attract attention in the largest of crowds.
Advertising space that targets affluent and local demographics is a local advertiser's dream, meaning you can command premium advertising prices, and offer your local markets a unique platform to advertise their wares. For small retailers - draw attention to products with low natural appeal to better market slower moving lines.
Buy Now!
Orders of 5+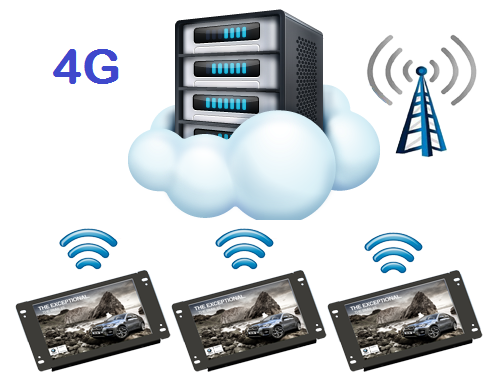 AD1001/4G uses the 4G mobile network to establish a connection to the home server. Advert videos are uploadable from anywhere to a base PC server, and then they can be beamed to any number of remote AD1001/4G units automatically. No need to return to base means advertising campaigns are always accurate and can be updated on the fly at any time of day or night.

Please note: 3G/4G connectivity is the responsibility of the purchasing customer.

Monitor Specification
Screen Size (diagonal)
10 inch
Aspect Ratio
16:9
Native Resolution
800 x 480 (Native)
Maximum Resolution
Maximum 1920 x 1080
Viewing Angle (degrees)
140° Horizontal / 120° Vertical
Brightness Ratio (cd/m2)
450
Contrast Ratio
500:1
Backlight
LED
Video Inputs
3G/4G connection for updating video content. SIM Card required.
Audio Outputs
Optional speaker
Touchscreen Technology
None
Input Power
12V DC
Width (mm)

286

Depth (mm)

35

Height (mm)

156

Weight (g)

565
Please note: product specifications, features, images and related downloads are subject to change at Lilliput UK's discretion at any time without prior notification. Lilliput UK Ltd cannot be held liable for outdated product information. Should customers have any queries about listed product specifications, please call Lilliput UK Ltd on +44 0845 0068868.