Lilliput creatively integrated waveform, vector scope, video analyser & touch control into on-camera monitor, which provides Luminance/Color/RGB histograms, Luminance/RGB parade/YCbCr parade Waveforms, Vector scope and other waveform modes; And measurement modes such as Peaking, Exposure & Audio level meter. These assist users to accurately monitor when shooting, making and playing movies/videos.
Level meter, Histogram, Waveform & Vector scope can be displayed horizontally at the same time; Professional waveform measurement & color control to realise and record Natural color.
Advanced Functions:
Histogram
Histogram consist of RGB, Color & Luminance histograms.
l  RGB histogram: shows the red, green, and blue channels in overlay histogram.
l  Color histogram: shows histograms for each of the red, green, and blue channels.
l  Luminance histogram: shows the distribution of brightness in an image as a graph of luminance.

The 3 modes can be selected to meet users' best needs and view visually the exposure of whole and each RGB channels. Users have the full contrast range of video for easy color correction during post production.
Waveform
Waveform monitoring consist of Luminance, YCbCr parade & RGB parade Waveforms, which used for measuring the brightness, luminance or chroma values from a video input signal. It not only can warn the user for out-of-range conditions such as overexposure errors, but also assist with colour correction & camera white and black balance.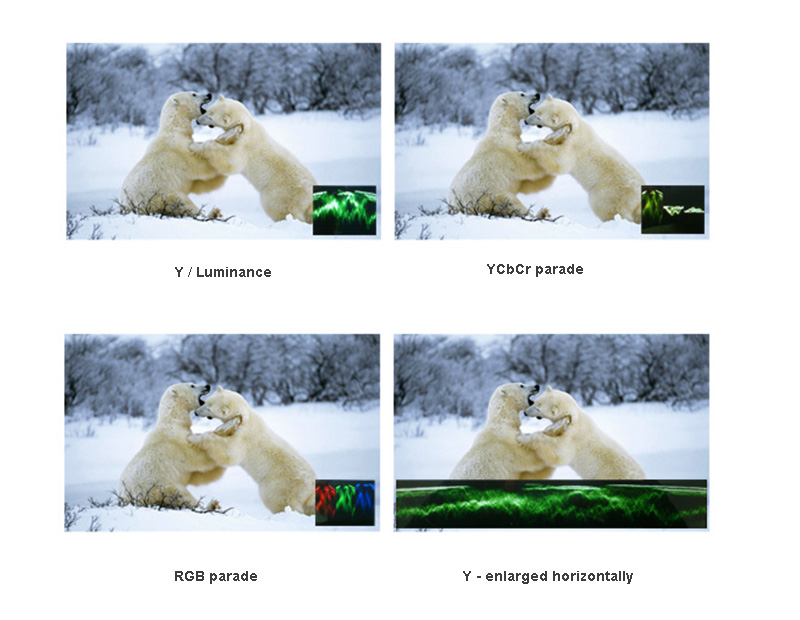 Note: Luminance waveform can be enlarged horizontally on the bottom of display.
Vector scope
Vector scope shows how saturated the image is and where the pixels in the image land on the color spectrum. It can also be displayed in various sizes & positions, that allows users to monitor color gamut range in real time.

Audio Level Meter
The Audio Level Meters provide numerical indicators and headroom levels. It can generate accurate audio level displays to prevent errors during monitoring.
Functions:
> Camera Mode > Center Marker > Screen Marker  > Aspect Marker > Aspect Ratio> Check Field >  Underscan > H/V Delay > 8×Zoom > PIP > Pixel-to-Pixel > Freeze Input > Flip H / V> Color Bar
Touch Control Gestures
1. Slide up to active the shortcut menu.
2. Slide down to hide the shortcut menu.